About Us
New Winner is a Chinese takeaway in Lewisham. Why don't you try our Special Set Meal A2 For 2 Persons or Deep Fried Salt & Pepper Chilli?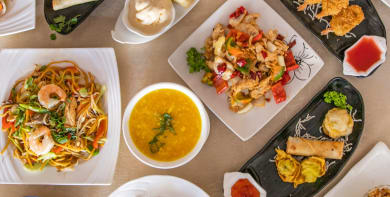 Reviews
313 reviews
Jay
"Great food as always, will not be disappointed, best Chinese Takeaway in this area."
07/05/2021
t
"The best 👌👌👌"
05/05/2021
Jason
"Best food and customer service I will not order anywhere else. They also have a 5 star hygiene rating. Highly recommend"
23/04/2021
Kamla
"The food was tasty but the delivery was poor as the food had leaked all over the carrier bag, so I had to clean the oil from the containers carefully first before settling down to eat."
19/04/2021
Menu
Winner House Special Combination
For 2 persons
Crispy seaweed, prawn on toast, pancake rolls, chicken wings, barbecue ribs & crispy wonton with a cup of sweet chilli sauce
£9.50
Seafood Mixed Platter
Crispy seaweed, fried squid, sesame prawn on toast, satay king prawn & fish cakes with sweet & chilli sauce.
£13.20
Salt & Pepper Chilli Box
Chips, prawn toast, chicken wings, ribs & prawns
£13.50
Aromatic Crispy Duck A. Quarter (6 Pancakes)
Served with pancakes, cucumber, spring onion & hoisin sauce
Extra pancakes or cucumber & spring onion £1.50
£9.20
Aromatic Crispy Duck B. Half (12 Pancakes)
Served with pancakes, cucumber, spring onion & hoisin sauce
Extra pancakes or cucumber & spring onion £1.50
£17.50
Crispy Aromatic Vegetarian Duck
Served with pancakes, cucumber, spring onion & hoisin sauce
Vegetables
£8.80
Aromatic Crispy Mongolian Lamb
Shedded
Served with Pancakes, Cucumber, Spring Onion & Hoi Sin Sauce
£9.80
Crispy Spring Rolls C) 6 Mini Vegetarian Spring Rolls (V)
£2.20
Crispy Spring Rolls B) Meat Spring Roll (1)
£2.30
Crispy Spring Rolls A) Chicken Spring Rolls
£2.60
Crispy Spring Rolls A)Duck Spring Rolls
£2.60
Crispy Spring Rolls A)Vegetarian Spring Rolls (V) (2 Mini)
£2.60
Deep Fried Curry Samosas (6 Mini)
Hot
£2.60
Deep Fried Salt & Pepper Chilli Tofu
£5.60
Deep Fried Salt & Pepper Chilli Chicken Wings
£5.80
Deep Fried Salt & Pepper Chilli Shredded Chicken
£5.80
Deep Fried Salt & Pepper Chilli King Prawns
£6.80
Deep Fried Salt & Pepper Chilli Squid
£6.80
Deep Fried Salt & Pepper Seafood Special
Mixed King Prawn & Squid
£8.50
Deep Fried Shredded Smoked Chicken
£5.60
Crispy Butterfly King Prawns in Breadcrumbs - 8
Served with Sweet Chilli Sauce
£6.80
Crispy Won Ton with Sweet & Sour Sauce - 8
£5.20
Stuffed Crab Claws with Sweet Chilli Sauce - 6
£5.50
Peking Dumplings
Served with Ginger & Vinegar
£5.60
Satay Chicken on Skewers - 4
Served with Cucumber, Onion & Homemade Special Satay Sauce
£5.80
Satay King Prawns on Skewers - 4
Served with Cucumber, Onion & Homemade Special Satay Sauce
£6.80
Crispy Chicken Wings with Sweet Chilli Sauce
£5.80
Salt & Pepper Chilli Ribs
£6.40
Green Pepper in Black Bean Sauce Ribs
£6.40
Mixed Vegetable Soup
Vegetarian
£3.60
Won Ton Soup
With Chicken & Mushrooms
£4.00
Hot & Sour Soup B) Vegetarian (V)
Hot
£3.60
Hot & Sour Soup A) Regular Hot & Sour
Hot
£3.80
Crab Meat & Sweetcorn Soup
£3.80
Chicken Soup A) With Sweetcorn
£3.60
Chicken Soup B) With Mushrooms
£3.60
Chicken Soup C) With Noddles
£3.60
Thai Tom Yam Soup A) With Tofu
£3.60
Thai Tom Yam Soup B) With Seafood
£4.50
Noodles or Ho Fun or Vermicelli or Udon (L) J) Mixed Vegetables (V)
Served with sup chilli sauce
£5.50
Noodles or Ho Fun or Vermicelli or Udon (L) I) Vegetarian Chicken (V)
Served with sup chilli sauce
£6.00
Noodles or Ho Fun or Vermicelli or Udon (L) E) Won Ton
Served with sup chilli sauce
£6.20
Noodles or Ho Fun or Vermicelli or Udon (L) F)Roast Pork
Served with sup chilli sauce
£6.30
Noodles or Ho Fun or Vermicelli or Udon (L) G) Chicken
Served with sup chilli sauce
£6.30
Noodles or Ho Fun or Vermicelli or Udon (L) H) Beef
Served with sup chilli sauce
£6.30
Noodles or Ho Fun or Vermicelli or Udon (L) A) Mixed Seafood ( King prawns, squid & fish cakes)
Served with sup chilli sauce
£6.80
Noodles or Ho Fun or Vermicelli or Udon (L) B) Mixed Meat ( Roasted pork, chicken & beef)
Served with sup chilli sauce
£6.80
Noodles or Ho Fun or Vermicelli or Udon (L) C) King Prawns
Served with sup chilli sauce
£6.80
Noodles or Ho Fun or Vermicelli or Udon (L) D)Roasted Duck
Served with sup chilli sauce
£6.80
House Special with Soft Noodles
£7.30
House Special with Crispy Noodles
£7.30
House Special with Egg Fried Rice
£7.30
House Special with Plain Boiled Rice
£7.30
House Special with Ho Fun
£8.30
Seafood Special with Soft Noodles Black Bean Sauce (Hot)
£7.50
Seafood Special with Soft Noodles Garlic Sauce
£7.50
Seafood Special with Crispy Noodles Black Bean Sauce (Hot)
£7.50
Seafood Special with Crispy Noodles Garlic Sauce
£7.50
Seafood Special with Ho Fun Black Bean Sauce (Hot)
£8.50
Seafood Special with Ho Fun Garlic Sauce
£8.50
Seafood Special with Egg Fried Rice Black Bean Sauce (Hot)
£7.50
Seafood Special with Egg Fried Rice Garlic Sauce
£7.50
Seafood Special with Plain Boiled Rice Black Bean Sauce (Hot)
£7.50
Seafood Special with Plain Boiled Rice Garlic Sauce
£7.50
Cantonese Special Roast Duck Boiled Rice
£7.30
Cantonese Special Roast Duck Chow Mein
£7.30
Cantonese Special Roast Duck Fried Rice
£7.30
Cantonese Special Roast Chicken Boiled Rice
£7.30
Cantonese Special Roast Chicken Chow Mein
£7.30
Cantonese Special Roast Chicken Fried Rice
£7.30
Cantonese Special Roast Pork Boiled Rice
£7.30
Cantonese Special Roast Pork Chow Mein
£7.30
Cantonese Special Roast Pork Fried Rice
£7.30
Cantonese Special Roast Pork & Duck Boiled Rice
£7.30
Cantonese Special Roast Pork & Duck Chow Mein
£7.30
Cantonese Special Roast Pork & Duck Fried Rice
£7.30
Steamed White Boiled Rice
£3.50
Steamed Coconut Rice
(Rice Steamed with Coconut Milk)
£4.00
Plain Fried Rice with Egg & Spring Onion
£4.20
Mixed Vegetable Fried Rice
£5.20
Special Fried Rice (Chicken, Shrimps & Pork)
£5.70
Mixed Meat Fried Rice
(Roast Pork, Chicken & Beef)
£6.80
Mixed Vegetable Chow Mein
£5.20
Special Chow Mein
(Roast Pork, Chicken & Shrimps)
£5.70
Mixed Meat Chow Mein
(Roast Pork, Chicken & Beef)
£6.80
Seafood Chow Mein
(Fish Cakes, Squid & King Prawns)
£6.80
Vegetarian Singapore Fried Rice
£5.60
Singapore Vermicelli Noodles
£6.00
Vegetarian Singapore Vermicelli Noodles
£5.60
Singapore Chow Mein Noodles
£6.00
Mixed Vegetables A. Stir Fried Mixed Vegetables with Garlic Sauce
Onions, carrots, bean sprouts, green pepper, bamboo shoots, water chestnuts, Chinese leaves, mushroom & baby corn
£4.80
Mixed Vegetables B. Stir Fried Mixed Vegetables with Oyster Sauce
Onions, carrots, bean sprouts, green pepper, bamboo shoots, water chestnuts, Chinese leaves, mushroom & baby corn
£4.80
Mixed Vegetables C. Black Bean Sauce
Onions, carrots, bean sprouts, green pepper, bamboo shoots, water chestnuts, Chinese leaves, mushroom & baby corn
£4.80
Mixed Vegetables D. Curry Sauce
Onions, carrots, bean sprouts, green pepper, bamboo shoots, water chestnuts, Chinese leaves, mushroom & baby corn
£4.80
Mixed Vegetables E. Sweet & Sour Sauce
Onions, carrots, bean sprouts, green pepper, bamboo shoots, water chestnuts, Chinese leaves, mushroom & baby corn
£4.80
Mixed Vegetables F. Cashew Nuts
Onions, carrots, bean sprouts, green pepper, bamboo shoots, water chestnuts, Chinese leaves, mushroom & baby corn
£4.80
Broccoli with Garlic Sauce
£4.80
Broccoli with Oyster Sauce
£4.80
Monk's Vegetables
White & black Chinese fungus, straw mushrooms, baby corn, carrots & beancurd
£5.00
Mapo Tofu Szechuan Style
Gravy sauce with beancurd, minced meat, carrots & bamboo shoots & onions
Vegetables
Hot
£5.00
Stir Fried Tofu
With Broccoli, Chinese Leaf & Carrots
£4.80
Pork Char Siu
(BBQ Sauce)
£5.80
Authentic Duck
Served on a Bed of Chinese Leaves, Topped with a Special BBQ Sauce
£6.80
Chicken Chinese Style
Served on a Bed of Beansprouts, Topped with BBQ Sauce
£5.80
Crispy Chicken in Lemon Sauce
£5.80
Crispy Chicken in Orange Sauce
£5.80
Deep Fried Crispy Shredded in Szechuan Style Chicken
Deep Fried in a Crispy Batter & Cooked
£5.80
Deep Fried Crispy Shredded in Szechuan Style Beef
Deep Fried in a Crispy Batter & Cooked
£6.00
Deep Fried Crispy Shredded in Peking Style Chicken
£5.80
Deep Fried Crispy Shredded in Peking Style Beef
£6.00
Sweet & Sour Balls Chicken Balls(10)
(All Served with a Cup of Sweet & Sour Sauce)
£6.00
Sweet & Sour Balls Pork Balls(10)
(All Served with a Cup of Sweet & Sour Sauce)
£6.00
Sweet & Sour Balls Chicken & Pork Balls(5+5)
(All Served with a Cup of Sweet & Sour Sauce)
£6.20
Sweet & Sour Balls King Prawn Balls(10)
(All Served with a Cup of Sweet & Sour Sauce)
£6.80
Sweet & Sour Chicken (Hong Kong Style)
£5.80
Sweet & Sour Pork (Hong Kong Style)
£5.80
Sweet & Sour King Prawn (Hong Kong Style)
£6.80
Szechuan Style Tofu (V)
Stir fried in a traditional szechuan paste with assorted vegetables
£5.20
Szechuan Style A) Chicken
Stir fried in a traditional szechuan paste with assorted vegetables
£5.80
Szechuan Style D)Vegetarian Chicken (V)
Stir fried in a traditional szechuan paste with assorted vegetables
£5.80
Szechuan Style B) Beef
Stir fried in a traditional szechuan paste with assorted vegetables
£6.00
Szechuan Style B) Pork
Stir fried in a traditional szechuan paste with assorted vegetables
£6.00
Szechuan Style C) House Special
Stir fried in a traditional szechuan paste with assorted vegetables
£6.80
Szechuan Style C)King Prawns
Stir fried in a traditional szechuan paste with assorted vegetables
£6.80
Kung Po Sauce E) Tofu (V)
( Sweet & Hot )
Stir fried in a sweet chilli sauce with water chestnuts, carrots, spring onion & cashew nuts
£5.20
Kung Po Sauce A) Chicken
( Sweet & Hot )
Stir fried in a sweet chilli sauce with water chestnuts, carrots, spring onion & cashew nuts
£5.80
Kung Po Sauce D)Vegetarian Chicken (V)
( Sweet & Hot )
Stir fried in a sweet chilli sauce with water chestnuts, carrots, spring onion & cashew nuts
£5.80
Kung Po Sauce B) Beef
( Sweet & Hot )
Stir fried in a sweet chilli sauce with water chestnuts, carrots, spring onion & cashew nuts
£6.00
Kung Po Sauce B) Pork
( Sweet & Hot )
Stir fried in a sweet chilli sauce with water chestnuts, carrots, spring onion & cashew nuts
£6.00
Kung Po Sauce C) House Special
( Sweet & Hot )
Stir fried in a sweet chilli sauce with water chestnuts, carrots, spring onion & cashew nuts
£6.80
Kung Po Sauce C)King Prawns
( Sweet & Hot )
Stir fried in a sweet chilli sauce with water chestnuts, carrots, spring onion & cashew nuts
£6.80
Chilli & Garlic Sauce E) Tofu (V)
Quick stir fried with Garlic, Onions, Carrots, Bamboo Shoots & Chilli
£5.20
Chilli & Garlic Sauce A) Chicken
Quick stir fried with Garlic, Onions, Carrots, Bamboo Shoots & Chilli
£5.80
Chilli & Garlic Sauce D)Vegetarian Chicken (V)
Quick stir fried with Garlic, Onions, Carrots, Bamboo Shoots & Chilli
£5.80
Chilli & Garlic Sauce B) Beef
Quick stir fried with Garlic, Onions, Carrots, Bamboo Shoots & Chilli
£6.00
Chilli & Garlic Sauce B) Pork
Quick stir fried with Garlic, Onions, Carrots, Bamboo Shoots & Chilli
£6.00
Chilli & Garlic Sauce C) Duck
Quick stir fried with Garlic, Onions, Carrots, Bamboo Shoots & Chilli
£6.80
Chilli & Garlic Sauce C)King Prawns
Quick stir fried with Garlic, Onions, Carrots, Bamboo Shoots & Chilli
£6.80
Satay Sauce E) Tofu (V)
Stir fried in a Spicy Peanut Sauce with Green Pepper, Onions
£5.20
Satay Sauce A) Chicken
Stir fried in a Spicy Peanut Sauce with Green Pepper, Onions
£5.80
Satay Sauce D)Vegetarian Chicken (V)
Stir fried in a Spicy Peanut Sauce with Green Pepper, Onions
£5.80
Satay Sauce B) Beef
Stir fried in a Spicy Peanut Sauce with Green Pepper, Onions
£6.00
Satay Sauce B) Pork
Stir fried in a Spicy Peanut Sauce with Green Pepper, Onions
£6.00
Satay Sauce C) Duck
Stir fried in a Spicy Peanut Sauce with Green Pepper, Onions
£6.80
Satay Sauce C)King Prawns
Stir fried in a Spicy Peanut Sauce with Green Pepper, Onions
£6.80
Mushrooms in Garlic E) Tofu (V)
Quick fried with Garlic, Mushrooms, Onions & Carrots
£5.20
Mushrooms in Garlic A) Chicken
Quick fried with Garlic, Mushrooms, Onions & Carrots
£5.80
Mushrooms in Garlic D)Vegetarian Chicken (V)
Quick fried with Garlic, Mushrooms, Onions & Carrots
£5.80
Mushrooms in Garlic B) Beef
Quick fried with Garlic, Mushrooms, Onions & Carrots
£6.00
Mushrooms in Garlic B) Pork
Quick fried with Garlic, Mushrooms, Onions & Carrots
£6.00
Mushrooms in Garlic C) Duck
Quick fried with Garlic, Mushrooms, Onions & Carrots
£6.80
Mushrooms in Garlic C)King Prawns
Quick fried with Garlic, Mushrooms, Onions & Carrots
£6.80
Oyster Sauce C) House Special
Stir fried with Baby Corn, Spring Onion & Carrots in Oyster Sauce
£5.20
Oyster Sauce D) Vegetarian Chicken (V)
Stir fried with Baby Corn, Spring Onion & Carrots in Oyster Sauce
£5.20
Oyster Sauce A) Chicken
Stir fried with Baby Corn, Spring Onion & Carrots in Oyster Sauce
£5.80
Oyster Sauce C) Duck
Stir fried with Baby Corn, Spring Onion & Carrots in Oyster Sauce
£5.80
Oyster Sauce E) Tofu (V)
Stir fried with Baby Corn, Spring Onion & Carrots in Oyster Sauce
£5.80
Oyster Sauce B) Beef
Stir fried with Baby Corn, Spring Onion & Carrots in Oyster Sauce
£6.00
Oyster Sauce B) Pork
Stir fried with Baby Corn, Spring Onion & Carrots in Oyster Sauce
£6.00
Oyster Sauce C) King Prawns
Stir fried with Baby Corn, Spring Onion & Carrots in Oyster Sauce
£6.80
Oyster Sauce C) Seafood
Stir fried with Baby Corn, Spring Onion & Carrots in Oyster Sauce
£6.80
Oyster Sauce C)King Prawns
Stir fried with Baby Corn, Spring Onion & Carrots in Oyster Sauce
£6.80
Green Pepper in Black Bean Sauce D)Vegetarian Chicken (V)
Stir fried in Special Black Bean Paste with Onions, Pepper & Carrots
£5.20
Green Pepper in Black Bean Sauce E) Tofu (V)
Stir fried in Special Black Bean Paste with Onions, Pepper & Carrots
£5.20
Green Pepper in Black Bean Sauce A) Chicken
Stir fried in Special Black Bean Paste with Onions, Pepper & Carrots
£5.80
Green Pepper in Black Bean Sauce C) House Special
Stir fried in Special Black Bean Paste with Onions, Pepper & Carrots
£5.80
Green Pepper in Black Bean Sauce B) Beef
Stir fried in Special Black Bean Paste with Onions, Pepper & Carrots
£6.00
Green Pepper in Black Bean Sauce B) Pork
Stir fried in Special Black Bean Paste with Onions, Pepper & Carrots
£6.00
Green Pepper in Black Bean Sauce C) Duck
Stir fried in Special Black Bean Paste with Onions, Pepper & Carrots
£6.80
Green Pepper in Black Bean Sauce C) Seafood
Stir fried in Special Black Bean Paste with Onions, Pepper & Carrots
£6.80
Green Pepper in Black Bean Sauce C)King Prawns
Stir fried in Special Black Bean Paste with Onions, Pepper & Carrots
£6.80
Curry Sauce D) Mixed Vegetable
With Mushrooms, Onions, Carrots & Peas
£5.20
Curry Sauce A) Chicken
With Mushrooms, Onions, Carrots & Peas
£5.80
Curry Sauce B) Beef
With Mushrooms, Onions, Carrots & Peas
£6.00
Curry Sauce B) Pork
With Mushrooms, Onions, Carrots & Peas
£6.00
Curry Sauce C) Duck
With Mushrooms, Onions, Carrots & Peas
£6.80
Curry Sauce C) House Special
With Mushrooms, Onions, Carrots & Peas
£6.80
Curry Sauce C) King Prawns
With Mushrooms, Onions, Carrots & Peas
£6.80
Chop Suey A) Chicken
Stir fried with Beansprouts & Onions in Sweet & Sour Sauce
£5.80
Chop Suey B) Beef
Stir fried with Beansprouts & Onions in Sweet & Sour Sauce
£6.00
Chop Suey B) Pork
Stir fried with Beansprouts & Onions in Sweet & Sour Sauce
£6.00
Chop Suey C) Duck
Stir fried with Beansprouts & Onions in Sweet & Sour Sauce
£6.80
Chop Suey C) House Special
Stir fried with Beansprouts & Onions in Sweet & Sour Sauce
£6.80
Chop Suey C) King Prawns
Stir fried with Beansprouts & Onions in Sweet & Sour Sauce
£6.80
Ginger & Spring Onions E) Tofu
Quick fried with Ginger & Garlic in Oyster Sauce
£5.20
Ginger & Spring Onions A) Chicken
Quick fried with Ginger & Garlic in Oyster Sauce
£5.80
Ginger & Spring Onions D) Vegetarian Chicken
Quick fried with Ginger & Garlic in Oyster Sauce
£5.80
Ginger & Spring Onions B) Beef
Quick fried with Ginger & Garlic in Oyster Sauce
£6.00
Ginger & Spring Onions B) Pork
Quick fried with Ginger & Garlic in Oyster Sauce
£6.00
Ginger & Spring Onions C) Duck
Quick fried with Ginger & Garlic in Oyster Sauce
£6.80
Ginger & Spring Onions C) House Special
Quick fried with Ginger & Garlic in Oyster Sauce
£6.80
Ginger & Spring Onions C) King Prawns
Quick fried with Ginger & Garlic in Oyster Sauce
£6.80
Ginger & Spring Onions C) Seafood
Quick fried with Ginger & Garlic in Oyster Sauce
£6.80
Cashew Nuts in Yellow Bean Sauce A) Vegetarian Chicken
In Yellow Bean Sauce with Diced Carrots,
Bamboo Shoots, Onions & Pepper
£5.20
Cashew Nuts in Yellow Bean Sauce E) Tofu (V)
In Yellow Bean Sauce with Diced Carrots,
Bamboo Shoots, Onions & Pepper
£5.20
Cashew Nuts in Yellow Bean Sauce A) Chicken
In Yellow Bean Sauce with Diced Carrots,
Bamboo Shoots, Onions & Pepper
£5.80
Cashew Nuts in Yellow Bean Sauce B) Beef
In Yellow Bean Sauce with Diced Carrots,
Bamboo Shoots, Onions & Pepper
£6.00
Cashew Nuts in Yellow Bean Sauce B) Pork
In Yellow Bean Sauce with Diced Carrots,
Bamboo Shoots, Onions & Pepper
£6.00
Cashew Nuts in Yellow Bean Sauce C) Duck
In Yellow Bean Sauce with Diced Carrots,
Bamboo Shoots, Onions & Pepper
£6.80
Cashew Nuts in Yellow Bean Sauce C) King Prawns
In Yellow Bean Sauce with Diced Carrots,
Bamboo Shoots, Onions & Pepper
£6.80
Peking Fruity Sauce A) Chicken
£5.80
Peking Fruity Sauce B) Beef
£6.00
Peking Fruity Sauce B) Pork
£6.00
Peking Fruity Sauce C) Duck
£6.80
Mongolian Style A) Chicken
£5.80
Mongolian Style C) House Special
£6.80
Mongolian Style C) King Prawns
£6.80
Mixed Vegetables E) Tofu (V)
£5.20
Mixed Vegetables A) Chicken
£5.80
Mixed Vegetables D) Vegetarian Chicken (V)
£5.80
Mixed Vegetables C) House Special
£6.80
Mixed Vegetables C) King Prawns
£6.80
Mixed Vegetables C) Seafood
£6.80
Thai Sweet Chilli A) Chicken
With sliced carrots, onions, lemon grass & lime leaves in sweet chilli sauce
Hot
£6.20
Thai Sweet Chilli B) King Prawns
With sliced carrots, onions, lemon grass & lime leaves in sweet chilli sauce
Hot
£6.80
Thai Green Curry Tofu (V)
Hot
£5.60
Thai Green Curry C) Vegetarian Chicken(V)
Hot
£5.70
Thai Green Curry A) Beef
Hot
£6.00
Thai Green Curry A) Chicken
Hot
£6.00
Thai Green Curry A) Pork
Hot
£6.00
Thai Green Curry B) Duck
Hot
£6.80
Thai Green Curry B) House Special
Hot
£6.80
Thai Green Curry B) King Prawn
Hot
£6.80
Thai Red Curry D) Tofu (V)
Very Hot
£5.60
Thai Red Curry C) Vegetarian Chicken
Very Hot
£5.70
Thai Red Curry A) Beef
Very Hot
£6.00
Thai Red Curry A) Chicken
Very Hot
£6.00
Thai Red Curry A)Pork
Very Hot
£6.00
Thai Red Curry B) House Special
Very Hot
£6.80
Thai Red Curry B) King Prawn
Very Hot
£6.80
Thai Red Curry B)Duck
Very Hot
£6.80
Thai Jungle Curry D) Tofu (V)
Extra Hot
Pan braised meat or seafood with traditional thai ingredients in
curry paste & coconut milk with green pepper, onions, coriander,
bamboo shoots & basil leaves
£5.60
Thai Jungle Curry C) Vegetarian Chicken
Extra Hot
Pan braised meat or seafood with traditional thai ingredients in
curry paste & coconut milk with green pepper, onions, coriander,
bamboo shoots & basil leaves
£5.70
Thai Jungle Curry A) Beef
Extra Hot
Pan braised meat or seafood with traditional thai ingredients in
curry paste & coconut milk with green pepper, onions, coriander,
bamboo shoots & basil leaves
£6.00
Thai Jungle Curry A) Chicken
Extra Hot
Pan braised meat or seafood with traditional thai ingredients in
curry paste & coconut milk with green pepper, onions, coriander,
bamboo shoots & basil leaves
£6.00
Thai Jungle Curry A)Pork
Extra Hot
Pan braised meat or seafood with traditional thai ingredients in
curry paste & coconut milk with green pepper, onions, coriander,
bamboo shoots & basil leaves
£6.00
Thai Jungle Curry B) House Special
Extra Hot
Pan braised meat or seafood with traditional thai ingredients in
curry paste & coconut milk with green pepper, onions, coriander,
bamboo shoots & basil leaves
£6.80
Thai Jungle Curry B) King Prawn
Extra Hot
Pan braised meat or seafood with traditional thai ingredients in
curry paste & coconut milk with green pepper, onions, coriander,
bamboo shoots & basil leaves
£6.80
Thai Jungle Curry B)Duck
Extra Hot
Pan braised meat or seafood with traditional thai ingredients in
curry paste & coconut milk with green pepper, onions, coriander,
bamboo shoots & basil leaves
£6.80
Thai Tom Yam Sauce D) Tofu (V)
Hot
Quick stir fried in tom yam paste with red pepper, bamboo
shoots, onions, straw mushrooms & lime leave,
garnished with coriander & fresh chilli
£5.60
Thai Tom Yam Sauce C) Vegetarian Chicken
Hot
Quick stir fried in tom yam paste with red pepper, bamboo
shoots, onions, straw mushrooms & lime leave,
garnished with coriander & fresh chilli
£5.70
Thai Tom Yam Sauce A) Beef
Hot
Quick stir fried in tom yam paste with red pepper, bamboo
shoots, onions, straw mushrooms & lime leave,
garnished with coriander & fresh chilli
£6.00
Thai Tom Yam Sauce A) Chicken
Hot
Quick stir fried in tom yam paste with red pepper, bamboo
shoots, onions, straw mushrooms & lime leave,
garnished with coriander & fresh chilli
£6.00
Thai Tom Yam Sauce A)Pork
Hot
Quick stir fried in tom yam paste with red pepper, bamboo
shoots, onions, straw mushrooms & lime leave,
garnished with coriander & fresh chilli
£6.00
Thai Tom Yam Sauce B) House Special
Hot
Quick stir fried in tom yam paste with red pepper, bamboo
shoots, onions, straw mushrooms & lime leave,
garnished with coriander & fresh chilli
£6.80
Thai Tom Yam Sauce B) King Prawn
Hot
Quick stir fried in tom yam paste with red pepper, bamboo
shoots, onions, straw mushrooms & lime leave,
garnished with coriander & fresh chilli
£6.80
Thai Tom Yam Sauce B)Duck
Hot
Quick stir fried in tom yam paste with red pepper, bamboo
shoots, onions, straw mushrooms & lime leave,
garnished with coriander & fresh chilli
£6.80
Thai Fried Rice A) Beef
With Pineapple, Lemon Grass & Lime Leaves
Hot
£5.90
Thai Fried Rice A) Chicken
With Pineapple, Lemon Grass & Lime Leaves
Hot
£5.90
Thai Fried Rice A) Pork
With Pineapple, Lemon Grass & Lime Leaves
Hot
£5.90
Thai Fried Rice B) Duck
With Pineapple, Lemon Grass & Lime Leaves
Hot
£6.80
Thai Fried Rice B) House Special
With Pineapple, Lemon Grass & Lime Leaves
Hot
£6.80
Thai Fried Rice B) King Prawn
With Pineapple, Lemon Grass & Lime Leaves
Hot
£6.80
Pad Thai Noodles D) Tofu (V)
Hot
Stir fried thai rice with sliced onions, carrots, green pepper & bamboo shoots, gamished with crushed peanuts, coriander & fresh chilli
£5.60
Pad Thai Noodles C) Vegetarian Chicken
Hot
Stir fried thai rice with sliced onions, carrots, green pepper & bamboo shoots, gamished with crushed peanuts, coriander & fresh chilli
£5.70
Pad Thai Noodles A) Beef
Hot
Stir fried thai rice with sliced onions, carrots, green pepper & bamboo shoots, gamished with crushed peanuts, coriander & fresh chilli
£6.00
Pad Thai Noodles A) Chicken
Hot
Stir fried thai rice with sliced onions, carrots, green pepper & bamboo shoots, gamished with crushed peanuts, coriander & fresh chilli
£6.00
Pad Thai Noodles A)Pork
Hot
Stir fried thai rice with sliced onions, carrots, green pepper & bamboo shoots, gamished with crushed peanuts, coriander & fresh chilli
£6.00
Pad Thai Noodles B) House Special
Hot
Stir fried thai rice with sliced onions, carrots, green pepper & bamboo shoots, gamished with crushed peanuts, coriander & fresh chilli
£6.80
Pad Thai Noodles B) King Prawn
Hot
Stir fried thai rice with sliced onions, carrots, green pepper & bamboo shoots, gamished with crushed peanuts, coriander & fresh chilli
£6.80
Pad Thai Noodles B)Duck
Hot
Stir fried thai rice with sliced onions, carrots, green pepper & bamboo shoots, gamished with crushed peanuts, coriander & fresh chilli
£6.80
Malay Sambal A) Beef
Traditional Sambal chilli paste with onions & coriander
Hot
£6.20
Malay Sambal A) Chicken
Traditional Sambal chilli paste with onions & coriander
Hot
£6.20
Malay Sambal A) Pork
Traditional Sambal chilli paste with onions & coriander
Hot
£6.20
Malay Sambal B) Duck
Traditional Sambal chilli paste with onions & coriander
Hot
£6.80
Malay Sambal B) House Special
Traditional Sambal chilli paste with onions & coriander
Hot
£6.80
Malay Sambal B) King Prawn
Traditional Sambal chilli paste with onions & coriander
Hot
£6.80
Malay Complete Meal Nasi Lemak A) Beef
Popular malay coconut rice with sambal, egg, chicken wings, peanuts & cucumber
Hot
£7.20
Malay Complete Meal Nasi Lemak A) Chicken
Popular malay coconut rice with sambal, egg, chicken wings, peanuts & cucumber
Hot
£7.20
Malay Complete Meal Nasi Lemak A) Pork
Popular malay coconut rice with sambal, egg, chicken wings, peanuts & cucumber
Hot
£7.20
Malay Complete Meal Nasi Lemak B) Duck
Popular malay coconut rice with sambal, egg, chicken wings, peanuts & cucumber
Hot
£8.00
Malay Complete Meal Nasi Lemak B) House Special
Popular malay coconut rice with sambal, egg, chicken wings, peanuts & cucumber
Hot
£8.00
Malay Complete Meal Nasi Lemak B) King Prawn
Popular malay coconut rice with sambal, egg, chicken wings, peanuts & cucumber
Hot
£8.00
Malay Complete Meal Nasi Lemak C) Mixed Seafood
Popular malay coconut rice with sambal, egg, chicken wings, peanuts & cucumber
Hot
£8.50
Malaysian Noodles A) Egg Noodles
Fried noodles with squid, fish cakes & prawns, topped with fresh lettuce & chilli
Hot
£6.50
Malaysian Noodles B) Fried Kway Teow Flat Rice Noodles
Fried noodles with squid, fish cakes & prawns, topped with fresh lettuce & chilli
Hot
£6.80
Large Round Container - A) Sweet & Sour Chicken or Pork (Hong Kong style)
Sweet & sour chicken or pork (Hong Kong style)
£7.30
Large Round Container - Sweet & Sour Chicken Balls or Pork Balls
Sweet & sour chicken balls or pork balls
£7.30
Large Round Container - Chicken, Beef, or Roast Pork with Green Pepper in Black Bean Sauce
Chicken, beef, or roast pork with green pepper in black bean sauce
£7.30
Large Round Container - Chicken, Beef or Roast Pork with Mushrooms
Chicken, beef or roast pork with mushrooms
£7.30
Large Round Container - Chicken, Beef or Roast Pork Curry
Chicken, beef or roast pork curry
£7.30
Large Round Container - Chicken, Beef or Roast Pork in Oyster Sauce
£7.30
Chips A) Chips
Vegetarian
£2.50
Chips B) Chips with Curry Sauce
Vegetarian
£3.50
Chips C) Chips Salt & Pepper Chilli
Vegetarian
£4.00
Chips D) Salt & Pepper Chips with Chicken Wings
Vegetarian
£5.80
Omelette A) Plain with Omelette & Chips
Vegetarian
£5.00
Omelette B) Mushrooms Omelette & Chips
Vegetarian
£5.20
Omelette C) Chicken Omelette & Chips
Vegetarian
£5.80
Omelette D) King Prawns Omelette & Chips
Vegetarian
£6.80
Omelette E) House Special Omelette & Chips
Vegetarian
£6.80
Fritters in Golden Syrup Banana
£3.50
Fritters in Golden Syrup Pineapple
£3.50
Evian Water - Small Bottle 50cl
£1.00
Small Cup Sauce A. Sweet & Sour Sauce
£1.00
Small Cup Sauce B. Sweet Chilli Sauce (H)
£1.00
Small Cup Sauce C. Curry Sauce
£1.00
Small Cup Sauce D. BBQ Sauce
£1.00
Small Cup Sauce E. Black Bean Sauce (H)
£1.00
Small Cup Sauce F. Peking Sauce
£1.00
Small Cup Sauce G. Satay Sauce
£1.00
Large Cup Sauce A. Sweet & Sour Sauce
£1.60
Large Cup Sauce B. Sweet Chilli Sauce (H)
£1.60
Large Cup Sauce C. Curry Sauce
£1.60
Large Cup Sauce D. BBQ Sauce
£1.60
Large Cup Sauce E. Black Bean Sauce (H)
£1.60
Large Cup Sauce F. Peking Sauce
£1.60
Large Cup Sauce G. Satay Sauce
£1.60
Char Siu Bun - 2
Roast pork
£3.50
Steamed Vegetable Dumplings - 6
Vegetarian
£5.00
Steamed Chicken Dumplings
£5.60
Steamed Prawn Dumplings - 6
£5.60
Siu Mai - 6
Pork & Prawn Dumplings
£5.60
Special Set Meal A For 1 Person
Mini vegetarian spring rolls (4)
Sweet & sour chicken Hong Kong style
Egg fried rice
£9.50
Special Set Meal B For 2 Persons
Chicken Spring Rolls (2)
Sweet & Sour Chicken Hong Kong Style
Beef with Green Pepper in Black Bean Sauce (H)
Egg Fried Rice (2)
Prawn Crackers
£20.80
Special Set Meal B1 For 2 Persons
Satay Chicken on Skewers (2)
Sweet & Sour Chicken Balls (8)
Beef with Green Pepper in Black Bean Sauce (H)
King Prawn with Mixed Vegetables
Egg Fried Rice (2)
Prawn Crackers
£27.80
Special Set Meal C For 3 Persons
Satay Chicken on Skewers (3)
Deep Fried Crispy Shredded Chilli Beef (H)
Sweet & Sour Chicken Balls (8)
Szechuan Style Chicken (H)
Duck with Mushrooms in Garlic
Egg Fried Rice(3)
Prawn Crackers
£36.80
Contact Us
Find Us
278 Lewisham High Street, Lewisham, SE136JZ
We deliver to
SE10, SE12, SE13, SE14, SE23, SE3, SE4, SE6, SE8